Finally made that big decision to become a driving instructor? Find all the essential equipment needed as a driving instructor below.
Making the decision to become a driving instructor is a very rewarding job but its not for everyone. It also sound a lot easier on paper than it actually involves. The training alone has a huge drop out rate because of the high expectations and demand involved. On top of that this is your own business and therefore will required you to have some essentials. Trying to figure out what those are on your own can be a steep learning curve.
That's why I have shared a list of what I believe to be needed as a driving instructor. I have broken this down into separate categories, absolute essentials, Great to have, and Useful but not needed. I am then going to share with you some important mistakes I and others have made so you can avoid making those same mistakes and hopefully save you a ton of money and time.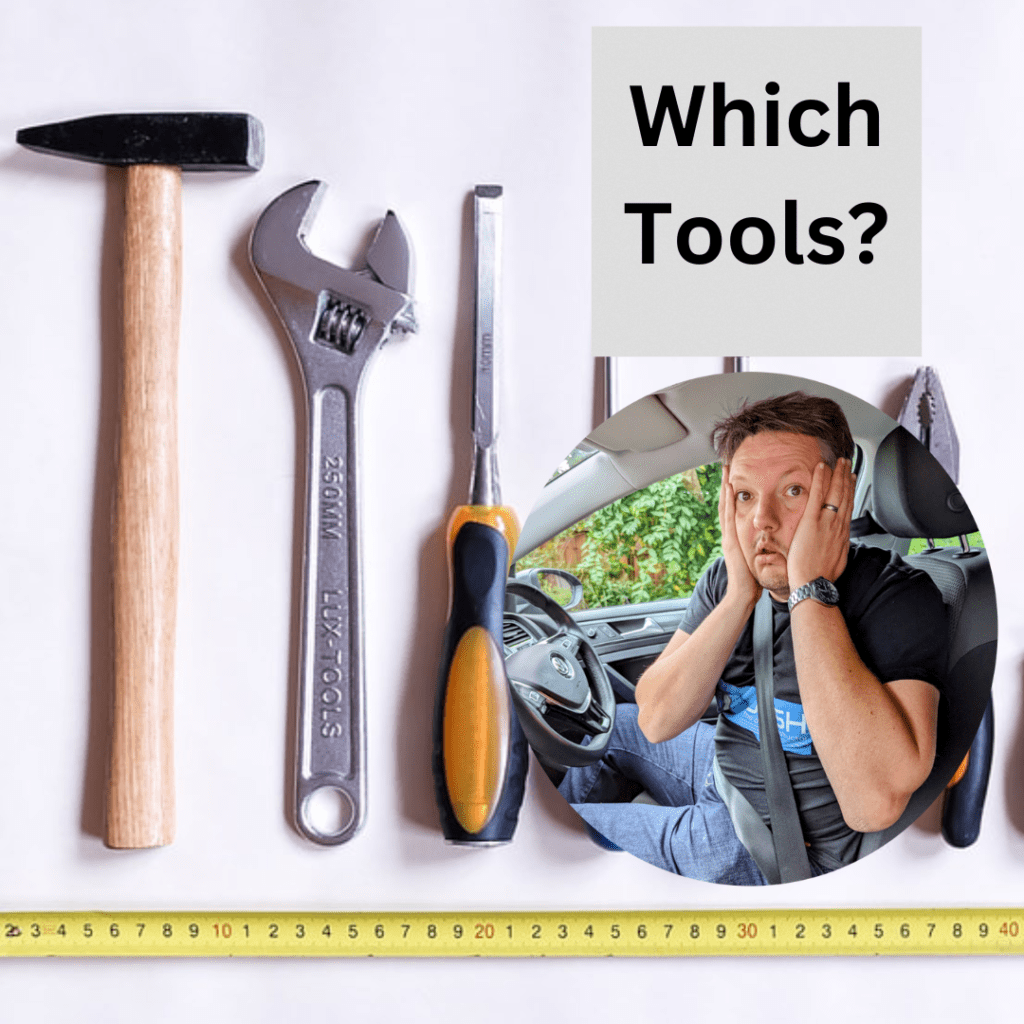 Tax Deductible
Because this is a business once you qualify as a driving instructor most if not all of these on the list below will be tax deductible. This means any profit you make that requires you pay tax on , you will be able to deduct a portion of that tax for any expenses you have.
Most Important Tools as a Driving Instructor
Car
Duel Controls
Diary
L Plates or roof box
Which Driving Instructor Car should I Choose?
Your car is going to be your office. You could be spending 8+ hours a day in there depending on how much you work. So its important you get a car that works for you. Make sure your are going to be comfortable in it. If you are 6 ft 4 then a tiny hatch back might not be the right choice for you.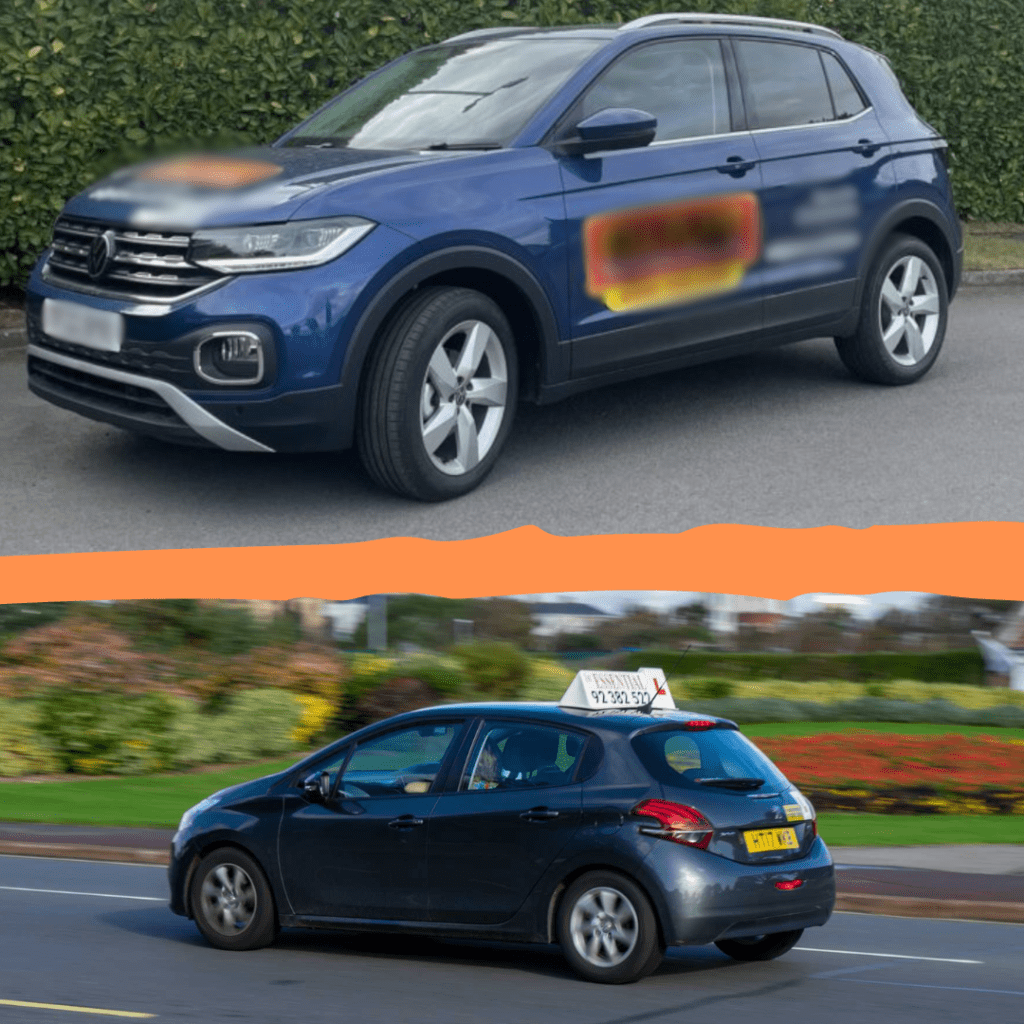 Can I Teach in a Family Car?
Every week I am seeing more and more people teaching in 4 by 4's and cross overs possibly because they are much higher up and helps keep there posture better if they are prone to a bad back or other health conditions.
You also need to think about the cost compared to how much you are going to work. If you plan to work 10 hours per week then your earnings will be unlikely to cover an expensive car worth £30000. However if you plan to work 30+ hours per week then a higher end car might become more feasible. If this is going to be your first car as a driving instructor I would always air on the side of caution and start off with a less expensive car. After all you can always sell it and get a more expensive one without losing out to much. trying to do it the other way around comes with higher risk.
What Type of Duel Controls Should I Have?
Duel Controls only include 2 pedal in the name duel. This is the brake and the clutch. If a car was fitted with a second accelerator it would not be allowed to be used for driving test purposes. Duel controls cost any where between £250 and £600 can be fitted in more or less any car so they are not something that you need to worry about. There are however a few different types of duel controls. The most common type are He-Man duel controls and Universal duel controls. Duel controls can be set to have independent or duel pedals meaning only one pedal will go down. So if you pressed the brake in the drivers seat the passenger brake would stay up. This is the same for the clutch as well.
There are pros and cons to both which is a story for another day but something else to think about is the universal duel controls can be swapped to any other vehicle meaning once you buy them once you will only have to get them swapped. The other types of duel controls are car specific so any time you get a new vehicle you will need to buy another set of duel controls.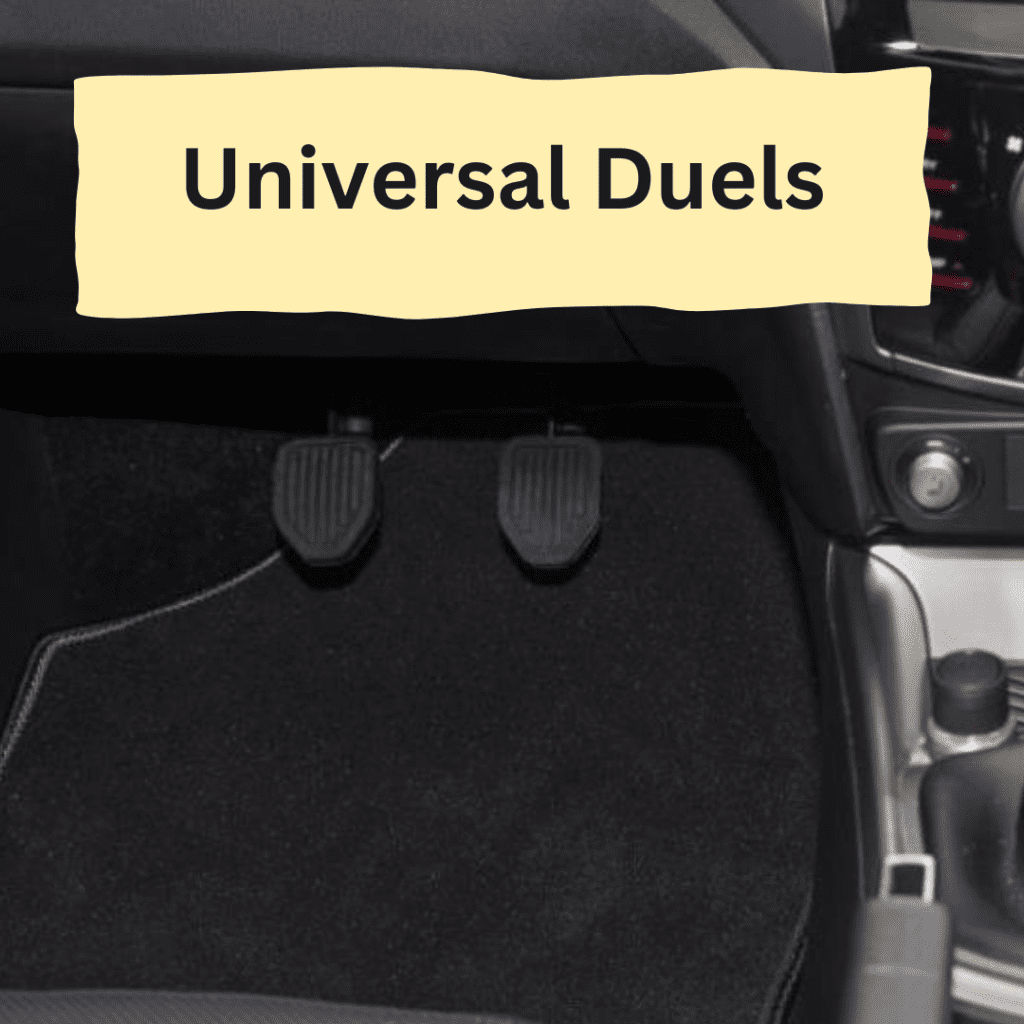 Which Diary is Best?
This sounds obvious I know but the reason i put it in is because you need to decide whether you are going old school hand written diary, mobile diary, or next gen driving instructor diary.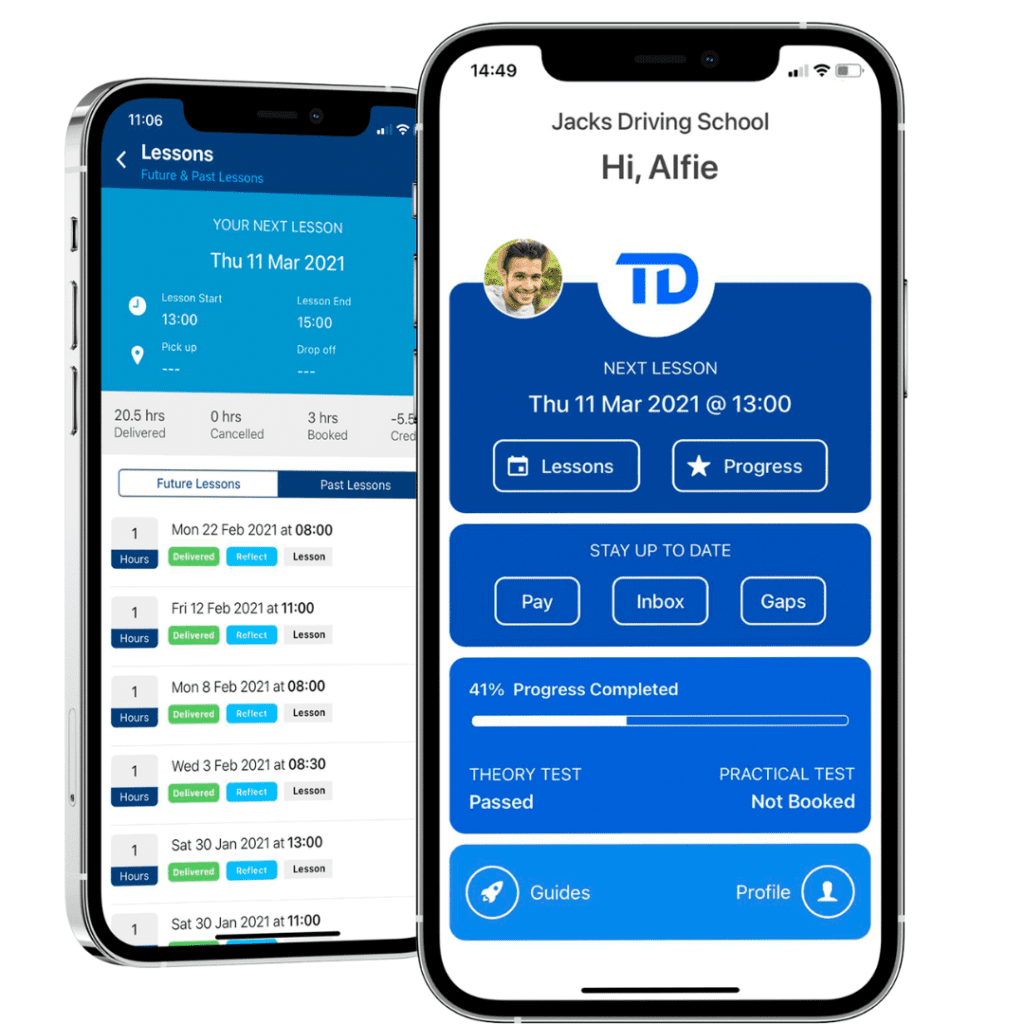 Each has its pros and cons which is a story for another day but personal preference i would go straight in for the driving instructor diary such as total drive. You do have to pay monthly but the amount of time it saves with all its driving instructor features is worth every penny and more.
L plates or Roof box
You can either choose a roof box or l plates or even both to have on your car. I started with both but found L plates just blow off the car or get dirty and scratch the paint. So i ended up just opting for the roof box as its crystal clear to other drivers that you are driving instructor.
Important Tools as a Driving Instructor
DashCam
Sat Nav
Blind-spot mirrors
Dash Cam is an important feature for driving instructors just because we are on the road so much. Unfortunately on occasions we come across someone who makes a mistake and pulls out on your or gets to close behind you. I recently had an accident which I caught on dash cam which very quickly cleared up the fault of the accident and protect my no claims.
Dash cams can also be useful to show students mistakes in there driving if they are unaware they are making them. For example if a student is un-knowingly steering the car left every time they turn right, you could very quickly show a student this on dash cam.
Satnav (Tomtom)
Again this is great to have as a driving instructor because part of your job is to prepare students for the driving test and 20 minutes of the driving test students will have to follow Sat Nav. The best option for this is a Tomtom purely because its going to be very similar if not the same as the student will use on the driving test. These Sat Navs also allow you to record driving test routes as well. This just helps give new instructors an idea off what the routes entail and if a student fails a driving test then you can go back over the route another day to help correct what they failed there driving test on.
Blind spot Mirrors
Blind spot mirrors are great for two main reasons. the first is when a student is driving the normal mirrors are set to them so you might not be able to see in them properly. Having blindsport mirrors as well means you will have a far better idea of whats going on around you.
The biggest reason for having blind spot mirrors however is to help students learn to reverse park. They give a far wider view meaning you can see curbs and white lines when trying to reverse. It also means once again you have a better view behind you to help and guide the student.
Helpful Tools As a Driving Instructor
Seat Protectors
Sunglasses
Umbrella
Water Bottle
Coffee Cup
Lunch Box
Something to listen to in the car
Seat Protectors
Bare in mind you will have 4-8 people swapping in and out of your car every day upto 7 days a week. Each of these people are doing something extremely stressful which is learning to drive. This creates a lot of anxiety and nerves which leads to side effects such as sweating. Your seats are also going to get worn a lot quicker just because the car is used so much.
The best way to counter this is get some seat covers or leather seats. Leather seats are much easier to wipe clean while seat covers are easy to replace when needed. Either way its going to save you money and time in the long run.
Why do I need driving Sunglasses?
Sunglasses are personal preference only because we do also have a sun visor in the car. However in the summer you are going to spend a lot of time with that sun blinding you while trying to teach someone else to drive. But surprisingly during the winter sometimes it can be even worse. Because our position to the sun is much lower in the winter in the UK, it has a better line straight into our eyes. To make matters worse its much wetter in the winter which creates a perfect reflection off the road making it far harder to see.